[LOCAL PICK-UP] Basque Cheesecake with Chocolate Ganache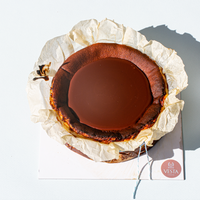 [LOCAL PICK-UP] Basque Cheesecake with Chocolate Ganache
This Gluten-Free Basque style Burnt Cheesecake is guaranteed to be a crowd pleaser! Lightly perfumed with vanilla beans, its magical texture melts in the mouth as it melds with the deep chocolate ganache. Pre-Order for your special events today!
* ONLY FOR LOCAL PICK-UP ORDERS. Please choose Local Pick up at INFORMATION section when checking out. 
Cream Cheese, Sugar, Egg, Gluten Free AP Flour, Vanilla Paste, Heavy Cream
NUTRITION FACTS
Servings: 1, Serving Size: 45g, Amount Per Serving:
Calories 210, Total Fat 17g (22%DV), Sat. Fat 10g (50%DV), Trans Fat 0g, Cholesterol 0mg (0%DV), Sodium 0mg (0%DV), Carb. 17g (6%DV), Sugar 12g (24%DV), Fiber 4g (14%DV), Protein 2g, Vit. D (0%DV), Calcium (2%DV), Iron (10%DV), Potassium. (0%DV).
*Percent Daily Values (DV) are based on a 2,000 calorie diet.